I'm not that "old" to blogging, in fact my blogging "history" is short, but I've been very enthusiastic by the results I keep on getting! More and More Traffic keeps on coming my way, and this makes me really proud, so allow me to share with you a really cool video I found on Video Blogging and a very good article I found on Blogging.
Blogging Success: How to Change Your Luck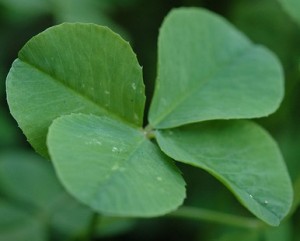 When it comes to blogging, it's easy to overlook the hard work involved and be lured in by the blarney surrounding it. While you don't need the luck of the Irish to succeed, blogging takes more than charm to accomplish your goals. In honor of St. Patrick's Day, here are seventeen pieces of blogging blarney and actionable marketing tactics to change your luck and put your blog on track to succeed.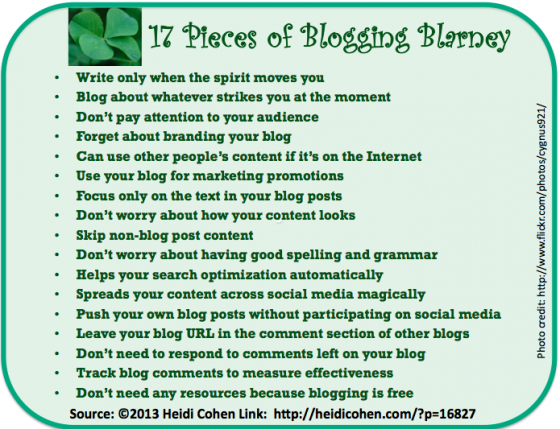 Write only when the spirit moves you. The reality is that you must consistently publish fresh content on a regular basis to build an audience. Actionable Marketing Tactic: Create an editorial calendar to help you structure your content creation.
Blog about whatever strikes you at the moment. This may work for a journal but even your mother doesn't want to know everything that pops into your mind. Actionable Marketing Tactic: Develop a plan for crafting new posts and keep a notebook or file of potential topics and titles.
Don't pay attention to your audience. The opposite is true. Your readers want to know that you care about them and the issues they're facing. This means listening.  Also, it's tough to write effective content without understanding your target audience. Actionable Marketing Tactic: Start by creating a marketing persona for your blog's audience. Once you start blogging, give your audience a way to let you know what  challenges they face.
Forget about branding your blog. Understand that branding gives your blog personality and sets it apart from the rest of the competition. If you don't spend time thinking about it, you'll present a confused perspective to your audience. Actionable Marketing Tactic: Plan how you'll integrate your brand into your blog. Remember this also includes your writing style.
Can use other people's content if it's on the Internet. Just as the content you create is your intellectual property that you let others read and share, other online information belongs to their creators and the media entities that publish it. Actionable Marketing Tactic: Extend your content creation efforts through the use of guest bloggers and content curation.
Use your blog for marketing promotions. Like any other form of social media, your blog needs non-promotional content. This doesn't mean that you can't use your blog to persuade prospects and customers to purchase from you. Actionable Marketing Tactic: Craft content that answers customers' questions, offer patterns and recipes, and shows them how to use your products. Gently persuade them to buy while making sure there are links to your product pages wherever appropriate!
Focus only on the text in your blog posts. While your blog needs amazing content, it requires more than just prose to attract reader attention. Actionable Marketing Tactic: Incorporate other forms of content such as images, video, audio and presentation. At a minimum, use an image in every post to pull visitors in.
Don't worry about how your content looks. Visitors decide whether to read your blog based on non-text elements. Therefore it's critical to consider how the information is presented. Actionable Marketing Tactic: Format your content for easy consumption. Make it scanable and snackable.
Skip non-blog post content. This refers to About pages and other static information. This content provides proof that there's a real person (or people) behind your blog. Further this information is where you can convert readers into buyers of your products and services. Actionable Marketing Tactic: Leverage your static pages to extend your relationship with readers. Give them a reason to care about you and your offering. Infuse this information with personality and photographs.
Don't worry about having good spelling and grammar because blogging is a quick publishing platform. Understand that poor writing turns your audience off and reflects badly on your brand. Actionable Marketing Tactic: Get a copyeditor or at a minimum have someone else proof your content for readability.
Helps your search optimization automatically. While the underlying blog technology helps your blog's basic searchability, more effort is required to maximize your blog's findability. Actionable Marketing Tactic: Incorporate both internal and external blog links to build your searchability. Focus each blog post on a keyword phrase. Also, add relevant keyword text to your non-text content.
Spreads your content across social media magically once you publish it. You need a plan to promote each piece of content to ensure that it's reaching the broadest audience possible. Actionable Marketing Tactic: Have a system in place that distributes your content across different social media platforms.  Include sharing options in new post notifications that you email to subscribers.
Push your own blog posts without participating in the social media conversation. Social media is a multi-directional conversation. Therefore, you need to engage with others and support their efforts as well. Actionable Marketing Tactic: Share other bloggers' content in a ratio of roughly one piece of your content to ten pieces of other people's content. Also, add juicy comments to other people's blogs to attract their attention.
Leave your blog URL in the comment section of other blogs to drive readers to your blog. While it's good practice to engage in the conversation on other blogs and social media formats, you shouldn't just spam the comment section with your URL. Understand that many bloggers moderate comments with URLs to ensure that they add to the conversation. Actionable Marketing Tactic: Add value in your comments to intrigue the bloggers to check you out. This means saying more than "Great Post."
Don't need to respond to comments left on your blog. While it's true that answering comments isn't required, doing so shows that there's a person behind your blog and that you care about your audience. Actionable Marketing Tactic: When possible (since you may not always have time), respond to meaty comments to encourage others to join the conversation on your blog. BTW it doubles the number of comments and provides additional social proof.
Track blog comments to measure effectiveness. Many bloggers and executives believe that comments are the most important sign of a successful blog. Yet the reality is that comments don't necessarily help you to achieve your blog's goals. Actionable Marketing Tactic: Set well defined measurable goals that help you show that your blog is contributing to your business objectives.
Don't need any resources because blogging is free. While it's true that you can publish your blog on a free option such as Blogger or WordPress.com, it won't build your brand or support search optimization. Further this underestimates the need for content creation, creative, marketing and technology resources. Actionable Marketing Tactic: Include resources for blogging in your marketing plans, even if its mainly employee time.
You need to look beyond the blarney about blogging to understand what's really important for building your blog into an effective engine for achieving your blog objectives.
Tags: actionable marketing tactic, blogging, blogging tip, marketing, tips