Every Twitter veteran understands that, like other forms of social media, Twitter is about paying-it-forward and helping others, not pushing your latest marketing promotion. To this end, ask not what your Twitter followers can do for you, but what you can do for your followers without expectation of reward.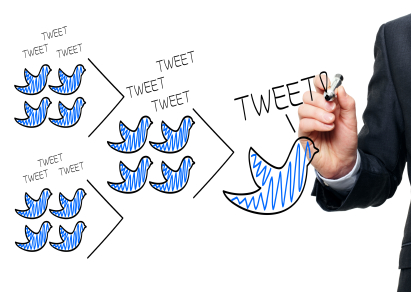 1.
Build your Twitter base before you need it.
Don't wait until you have a Rick Perry type gaff going viral to realize you need an engaged following on Twitter. Developing a Twitter following takes time and effort, especially for businesses but it can be worth it as Scott Monty demonstrated by putting out a PR crisis for Ford in less than twenty-four hours. 2.
Do your research.
Check what's being said about your business, brand or category via Twitter search as well as what hashtags are associated with these terms. This is particularly important if you're considering developing a hashtag for your business. Make sure that the hashtag isn't in use and that no one's using a similar Twitter handle. 3.
Thank you goes a long way.
This means thanking people who tweet and retweet your tweets and content. This is particularly important if you're new to Twitter and looking to build a base. These people are already fans of the content you share. 4.
Become a valuable resource through content curation.
Be the go-to person on a specific topic related to your business. You select the most important information people need to know in your field. What's important is that you're consistent in your tweets and that you respond to others on Twitter. To support this, add comments to your tweets and retweets to provide value to your followers. 5.
Position yourself or your company as thought leader.
Be a leading thinker in your field by contributing to the important ideas in your category. Actively contribute to the public conversation. It's useful to have supporting platforms such as a blog where you can express yourself more fully. 6.
Create a targeted Deal-of-the-Day. The goal is to give consumers what they want without the issues associated with a Groupon type offer.
Data show that consumers follow brands on social media platforms to get a promotion, coupon or savings. Take a page from Woot and offer followers a time limited special. Use it to move inventory that's not moving as fast as you'd like. 7.
Transmit time-sensitive information. This works well for businesses that must get information to consumers who are on-the-go.
For example, @JetBlue does a great job of communicating with passengers. Their Twitter profile clearly states it's not an official customer service channel. 8.
Offer customer service. The reality is consumers use every available channel to get their questions answered.
Some companies, namely Comcast and Zappos, have done a great job of using Twitter to answer customer questions. Bear in mind that your staff must be trained in how to engage on social media platforms, must have the appropriate skills, and must be given social media guidelines, since it's not the same as a call center. 9.
Develop your community. Use Twitter to engage with consumers and fans.
One way to do this is to build a Twitter chat on a topic related to your business. It's a great way to have a public dialog on a regular basis. Invite guest speakers who are of interest to your audience and keep the conversation going during the week. 10.
Integrate Twitter with your content marketing strategy.
There are two sides to this recommendation. Use Twitter as a means of distributing your content such as blog posts, e-books, etc. in a way that's useful for your followers. And, use a Twitter slurp to augment the content on your website or blog. 11.
Expand the reach of your live events.
Create a targeted hashtag for your live events and conferences so that attendees can share useful tidbits. Support live tweeting with wifi and electric outlets. Go one step further and encourage presenters to include the hashtag and their Twitter handles in their presentations and to create Twitter bait (tweetable phrases).
Source: http://heidicohen.com/twitter-veterans-ask-not-what-your-followers-can-do-for-you-but-what-you-can-do-for-your-followers
Tags: followers, following, marketing, marketing promotion, marketing tips, Twitter