Another very interesting post that talks about the blogging beliefs that everyone should know. Without further ado, here are 13 blog beliefs busted.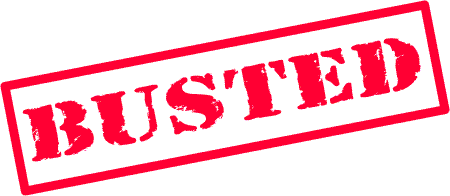 1. It's my blog and I can write whatever I want to.
Face it—even your mother probably doesn't really care to read all of your online ramblings. The reality is that a blog is about your core audience and their interests, with the possible exception of personal journals. But even the successful ones like Penelope Trunk rarely rant.
Actionable Blogging Tips:
Focus your blog on a specific niche. Many bloggers believe that they need to write about a wide variety of topics. What they miss is that the more targeted your blog, the easier it is to stand out and attract an audience. This is especially important for new bloggers seeking to build a following. For example, Jon Loomer focused his social media blog on Facebook. He was able to grow his following in a crowded category by being laser focused.
Leverage the power of your focus. Selecting a targeted subject enables you to cover a wide variety of themes through the lens of your niche. For example, Ian Cleary of Razor Social is the social media tools and technology geek. He covers the range of social media platforms, both established and emerging. As a result, he not only attracts readers who want his expert advice on the latest ways to use these applications but also smart social media businesses seek his input and assessment.
2. I'm not particular who my readers are.
While this approach may be okay for people who use their blog as a form of personal journaling, your audience is key if you want your blog to support your business.
Actionable Blogging Tip:
Create a marketing persona. The objective is to understand the traits of your ideal reader and even give him or her a face. These personas can be the same as the ones you use for your business. This has two key benefits: it helps inform the topics you write about and it enables you to write for a specific person.
3. I can write whenever the spirit moves me.
Finding time to do the things that are important to you and your business can be difficult but if you wait for the blog post fairy to inspire you, you're probably going to wait a very long time. Your blog is a publishing platform. It's a media entity and you must stick to a publishing schedule so that your audience expects to see your content on a regular basis. Without doing this, you'll have a difficult time building a following. Understand that there are note-worthy exceptions.
Actionable Blogging Tips:
Publish multiple times a day to maximize reach quickly. Although this requires a lot of dedicated resources, it's what large, established blogs and media entities do.
Post 2 to 3 times per week to gain traction. This is the blog post publication sweet spot according to Hubspot analysis. It attracts roughly 75% of the results of posting multiple times a day every day.
Be consistent. This means publish at the same time on the same days even if it is only the first and third Monday of every month at noon.
4. Size doesn't matter (at least for blog post length).
Look at a variety of top blogs and you'll find that they differ in the length of an average blog post. (For some data on this, ViperChill compiled older but actual blog post length results.) But to gain traction, you need the miniskirt approach to blog posts. According to Joe Pulizzi in one of the shortest blog posts I've ever seen, "It has to be short enough to be interesting, but long enough to cover the subject". For example, Gawker's articles tend to be short, juicy tidbits with great headlines and visuals. By contrast, Social Media Examiner articles clock in at a minimum of 1,200 words.
Actionable Blogging Tips:
Avoid very short blog posts. At a minimum, write at least 550 to 600 words. You can publish shorter content but doing so puts you in competition with content farms that create short, well optimized information.
Choose quality over quantity. Don't just keep piling in words to reach a magic limit. Instead write what's needed and ruthlessly cut the excess without hurting the meaning of the piece.
Add long posts for variety. Research shows that longer articles perform well and attract readers. Neil Patel attributes long posts to improved search engine results. Use longer posts as pillar content covering your main topics.
5. Grammar doesn't matter on a real time publishing platform.
Don't underestimate the importance of using good grammar and spelling. Not doing so shows a lack of respect for your readers and your brand. In fact Disruptive Communications research revealed that, contrary to popular belief, 43% of UK consumers hated poor grammar and usage on social media.
Actionable Blogging Tips:
Take advantage of the spell check function. While you won't catch words that sound alike such as: there, their or they're, you will reduce the number of errors.
Get an editor or assistant. The benefit is that you'll find the sections that seem good to you but don't make sense to others.
Let your posts rest before you publish. If you don't have the resources for an editor, at a minimum, wait for a period of time so that you can see it with fresher eyes. Also, read it out loud so that you can hear if there are problems.
6. Only writing is required for a blog.
While many people think text when they hear the word "blog", the reality is that blogs need images and other forms of content. Blogs are a great way to showcase photos, videos, audio, presentations, e-books and infographics.
Actionable Blogging Tips:
Add an image near the top of each post to attract more reader attention. Leverage the power of pictures to pull people into your post.
Diversify your blog offering. Set up an editorial calendar that includes non-text content to add another dimension to your blog.
7. With blogging, I don't need to worry about technology.
If this were only so! While using a blog simplifies what the blogger needs to know, there's still plenty of technical work that periodically needs doing. (Personally, my webmaster, Larry Aronson, takes care of this – it's way more time efficient for me.)
Actionable Blogging Tips:
Minimize the time your blog takes to load. This is critical for 2 reasons: (1) search engines track how long it takes for websites to load and factors this into its rankings, and (2) visitors have limited patience especially when they're on a smartphone and may not have WiFi.
Utilize the appropriate plug-ins. These small bits of code help facilitate different activities on your blog with limited, if any, support needed.
8. It looks good on my computer so it should be ok for my readers.
With people consuming more information across devices, it's critical that your blog renders well across different screens. Further, depending on how your blog theme is configured, your readers may still be challenged by fat finger failure, the inability to use their fingers as finely as a touchpad or mouse.
Actionable Blogging Tip:
Ensure that your blog renders on different devices. This means incorporating responsive design (a website that adjusts to the size of the viewer's screen) or using a plug-in like WP-Touch for WordPress blogs.
9. Search optimization just happens by itself.
Another version of this belief is that a blog automatically improves your search results. While it's true that blogging software helps improve content findability by search bots. It requires on-going work and vigilance for your blog to gain traction for your key search terms. Andy Crestodina, author of Content Chemistry, provides useful insights in his post, Blog Optimization. Additionally, here's what 15 SEO experts say about optimizing your blog.
Actionable Blogging Tips:
Create a list of keywords that are important to your business. Based on this list, develop longer pieces of content that show you're an authority on this topic.
Focus each post around a keyword phrase or product. Where possible, incorporate this phrase into the title of the post, the URL, and the article.
10. Blog content distribution happens automatically.
While it's true that you can set up your blog to distribute information via Google for feeds and emailings, to really get the power out of your post, you need to actively promote it. (In fact, this has created a debate over the 80-20 Rule of Content Distribution.)
Actionable Blogging Tips:
Plan your blog post distribution. Think in terms of owned, social and third party media. Here's a checklist of 37 different content distribution options.
Facilitate social sharing. Add social sharing icons to your blogs posts and blog. The easier you make sharing the more likely they are to be shared.
Build a tribe. Collaborate with a group of colleagues and social media friends to share each other's content. This helps you to expand your reach.
11. We don't need content creation resources for our blog.
This misconception is a relative of the belief that social media is free. It comes in two forms. First is the idea of getting other people to guest blog for you. While it's true that people will want to write for you to establish their expertise and get backlinks to their blogs, you first need a large audience to attract them. Then you must determine if the posts are relevant and of good quality for your blog. Lastly you'll need to edit their content. All this requires skill and resources, even if it's only your time. Second is republishing other people's content. This means you either get permission for second rights to publish the entire piece or a portion of it with full attribution and a link to the original post. Be aware that some bloggers request monetary compensation for these posts.
Actionable Blogging Tips:
Re-imagine other content. The critical point is that you must enhance the information to make it better. Here are 14 resources every business can use. To expand your blog support team, consider who else you can persuade to help you.
12. Readers know what I want them to do after reading my post.
Readers aren't anymore clairvoyant than your than your children are mind readers. You must explicitly ask your readers to take the next step. You can't leave this to chance, especially after you've worked so hard to create your blog post.
Actionable Blogging Tips:
Add a targeted call-to-action to each post. It can be explicit such as "Please sign up for our email newsletter" or implied such as linking your picture to your product page.
13. Once I start blogging, the money will start rolling in.
This is one of my favorites. If your only reason for blogging is to make money, then stop now. (More importantly, read my Newbie Guide To Blogging, What The Experts Don't Tell You.) There are easier and faster ways to generate income than blogging. While there are people who make a good living from their blog and related activities, they tend to be a small subset of total bloggers.
Actionable Blogging Tips:
Leverage the power of your blog to build your business. Marcus Sheridan's blog about his pool company is the poster child for this. The blog turned his business around during the 2008 recession when people weren't able to pay for their mortgages, let alone an in-ground pool.
Build your house email file. A list of people who are interested in your product and company is an important corporate asset (regardless of how big your business is.) It enables you to continue to sell to these people by providing quality content.
Source: http://heidicohen.com/blogging-tips-to-avoid-triskaidekaphobia
Tags: blogging, blogging tips, common blogging beliefs, content creation, marketing persona, niche, social media tools