Just like Facebook and Twitter, all businesses need to be using Google Plus. Otherwise, you're simply ignoring millions of people who could help you grow your business. Check out this informative video that talks about Google Plus for Business.
If you're not using Google Plus for business, you're missing out on drawing millions of eyes to your site. Raise awareness of your brand and start using Google Plus to grow your business.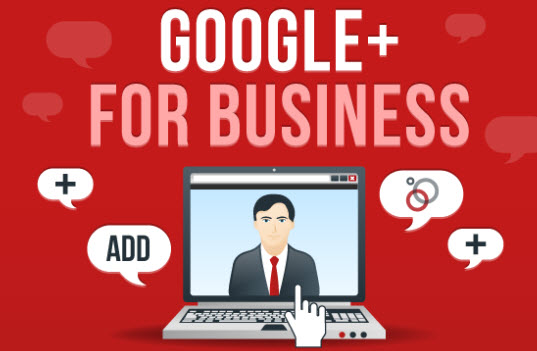 Build Your Content on Google Plus
After you create your Google Plus business page, build out your content. Post relevant content so people can sample the type of information you'll be sharing with them. Spend a few days figuring out the tools of Google Plus and posting just as you would if you had millions of people in your circles viewing your page. Since you're just starting out, you have to take care of the page first before seeking out your audience. If the page isn't maintained or looks sloppy while you're trying to get those first few dozen people to circle your page, they'll see you offer weak content and won't bother to stick around.
Create Your Circles on Google Plus
Building your brand on Google Plus is different from building your brand on Facebook in a lot of ways but the main advantage is that you can separate people and other companies into specific circles. A media company can make a circle for other media companies on Google Plus, one for other businesses in the area, one for viewers and one for clients. Google Plus allows you to send updates to all circles or specific ones. So if you want to reward your current clients with a special promotion, type in your copy and choose the "Clients" circle.
Find Related Businesses and Circle Them
Now you're ready to start building out your circles. As a business page, you can't circle people until they circle you. You can circle other businesses, though. Spend time finding companies that will be interested in what it is you have to offer and whose audience is filled with people you'd like to attract. Put the companies in the appropriate circles you've just created.
Use Social Media to Announce Your Google Plus Page
Cross-promote your Google Plus page through your Twitter and Facebook pages. A lot of people use Twitter and Facebook in conjunction with each other. It won't be long before more people start using Twitter and Google Plus together either. Tweet about your page and start sending people to your Google Plus page to build your audience. Some people are going to love Facebook more than Google Plus. Others are going to jump ship and abandon their old Facebook page. There will also be that select group that can't live without their Twitter, Facebook and Google Plus accounts all splayed out across their monitor at once. Add a post on your Facebook page announcing you now have a Google Plus page. You're not trying to get people to leave their Facebook page to circle you on Google Plus. You're simply giving your audience another way to connect with your content.
Promote Your Google Plus Page Across Your Brand
Put +1 icons within your website's content right next to your Facebook and Twitter icons. Add a Google Plus icon that's featured on every page of your website and takes people directly to your page. When it's time to re-order business cards, make sure the new design that already contains your Facebook and Twitter addresses also has your Google Plus address. A TV station using Facebook and Twitter icons in closing credits can also show the Google Plus icon now. A newspaper or magazine should include the icon in print. When your audience sees your Twitter, Facebook and Google Plus icons, they know your company has an impressive social media presence and will check out one or more of your social media platforms.