I found a wonderful video sharing best practices on how to use social media as a marketing tool.
Continue reading get to know the 4 social media & content marketing tools for your business.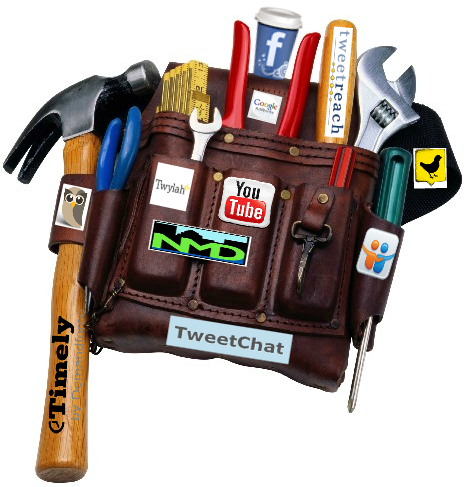 Social Media and Content Marketing are two of the hottest topics in our industry today. Below are 4 crossover tools that will help you manage your campaigns in both realms.
4 Social Media & Content Marketing Tools
SocMed and Content Marketing go hand in hand. You are best served by knowing what content is passed along as well as which SocMed platform performs most effectively for you. Below are 4 tools that will help you get a handle on what is working and what isn't. After using these tools below, you'll know better what themes to expand on and exploit and which ones to abandon in favor of other tactics. Now, without further ado, here's Sr. Editor Janet Roberts with those top 4 Social Media and Content Marketing tools. Take it awaaaaay, JR...
1. LinkTally
Bookmark the website for this service when you want a fast look at where your URLs are being shared socially without having to comb through a spreadsheet full of data. This complimentary service, provided by HubSpot, will track your URL, whether it's a native URL, tracking link or shortened version, on four major social networks: Google+, Facebook, LinkedIn and Twitter. Simply type or paste your URL in the indicated field. In a few seconds, LinkTally will report your results on each network, plus the grand total. That's all LinkTally does, but sometimes all you really need is a tool that does one small thing well. Its simplicity and inclusion of Google+ and LinkedIn make it useful for businesses doing content marketing.
2. PostRocket
We like this Facebook posting and scheduling tool because it's easy to use and solves the "Share" problem that plagues third-party posting services, like Twitter. If you cross-post to your Facebook fan page from a third-party app, Facebook doesn't add the "Share" link that fans can use to repost your content on their walls. This is crucial for increasing your reach and growing your fan base. But PostRocket adds your content to your Facebook page first. So, the "Share" button is activated on those posts. PostRocket also has some other handy benefits:
The scheduler function lets you write posts in advance, with the option either to post immediately or to let the app auto-schedule at optimum times.
PostRocket automatically reviews fan engagement and suggests whether you need to add more status updates, photos or links to build up your reach, or whether your post is too long.
The PostRocket bookmarklet on your Chrome or Firefox browser lets you share links easily from your blog, website or other sites you come across.
PostRocket is a freemium service (one Facebook page for free; paid plans begin at $24 monthly for up to 5 pages at time of writing.)
3. Markerly
Content sharing is popular, but is anybody actually reading all that content? This highlighting/sharing tool can raise your content visibility by letting your readers share the most pertinent snippet of your blog post or web copy, along with the article title and URL, with their friends. We like this tool because we think readers will be more likely to check out the shared content if they see why their friend shared the link, instead of having to read the entire article. Markerly takes a little time to set up because you have to insert a line of code into your web page's HTML coding set-up and customize the Markerly sharing widget to match your page. To use Markerly, just run your cursor over the page copy you want to share and click the Markerly widget on the page. This opens a new window with the content and a link back to the article. One click sends the link to a friend or posts it on the networks you specify. A set of basic analytics also shows you how many times your content gets shared and on which networks.
4. Mention
Less is more with this Social Media monitoring service, which sends you real-time alerts whenever your keywords show up in Twitter or Facebook and houses your "mentions" in a convenient dashboard for follow-up. Keywords can be your brand, key people in your company, your competition or your paid search terms, et al. Mention is a freemium service (free up to 3 alerts and 500 mentions per month, with paid service beginning at $19.99 monthly at time of writing). You'll also need to upgrade to a paid service if you want analytics on your mentions. We like this tool because it fits nicely in the middle ground between a full-service monitor, which can take a lot of time to work with, and a simple email notification service. Also, Mention's dashboard makes it easy to delegate posts to other team members for response.