Here's a great video on how effective B2B social media marketing, in this video you'll be able to learn how effective social media is for B2B companies.
Social media is effective for B2B business, continue reading to know more about how effective B2B Social Media Marketing.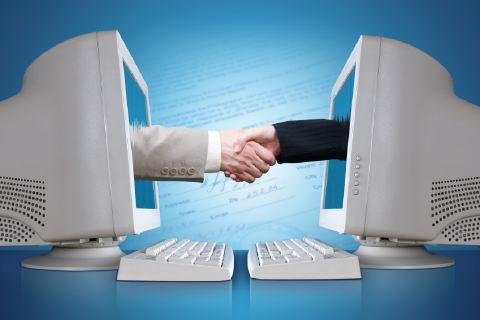 "Give a man a fish, feed him for a day, teach a man to fish, feed him for a lifetime"
I manage fifty social media pages for an apartment management company for my full time job. The leasing teams at each community are responsible for outreach business to business marketing. Their tasked with getting customers in the door so they sign leases. My role is to coach the onsite teams how to talk up their social media pages and use them to effectively to market business to business or B2B. Up until a week ago, I was the one reaching out to the businesses near the apartment community and would explain that we have a robust social media strategy blah blah blah. I sent them an email and explained that I want to feature their business on our community blog. Now, I am teaching the team at the community to physically go to the business and interact with the employees. It's harder to say buzz off in person, then over email.
The Strategy
The email to the business owner went something like this...
"Hi business owner. My name is Adam and manage the social media page for ___________. We have started a community feature section on our blog and we'd love to feature you. Our blog goes to 345 residents. In addition to listing a discount or offer, please tell us an interesting story that many people don't know. Feel free to include an offer at the end and link to your website. We'll also ask you to post our blog on your social media sites." 
This business to business social media strategy is mutually beneficial for both parties. We get content for our blog, which the other business shares. Our blog also contains links to our website, which is there to draw even more web traffic. The other business gets access to our residents and we get access to theirs. We now have built an offline relationship where we can send our specials their way and vice versa. This also gives our fans added value because of the exclusive deals the other business is offering. Our first community feature was for a restaurant in St. Pete, FL. It's important to know that the restaurant wrote this blog post, which showcases their voice and takes that task off our plate (no pun intended). You can read that blog post here. After I posted the blog post, I sent an email to the leasing professional who sent me the original to alert the restaurant that it was live and online. I also posted the blog post on the West Port Colony Facebook Page.
What to post on social media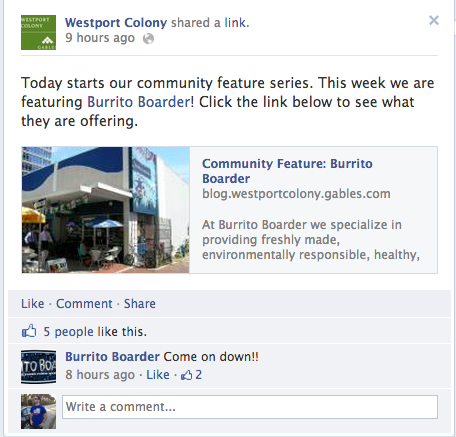 The image to the left is from the West Port Colony Page. You'll notice that I deleted the link from the body of the post and just left the thumbnail (which also includes a link). Facebook let's you delete that link to make your post look cleaner. You don't want to post the link twice. The Burrito Boarder did their due diligence by commenting on our page. Now our residents are likely to Like them on Facebook. I also liked their business page from the West Port Colony Facebook Page, and tagged them in the post. Remember, I had the leasing professional ask them to post the blog on their page as well. Instead of me contacting them via email, they did it for me. Again, building that personal relationship.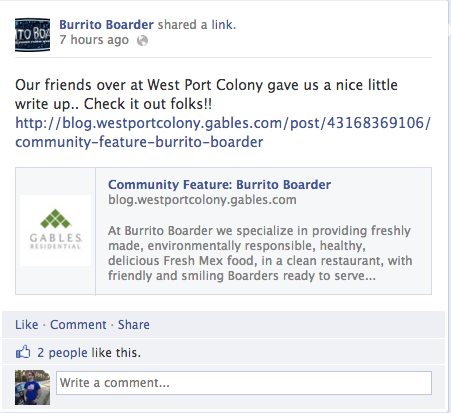 You'll see that they did post it on their page, but there are a few things I would suggest that they do differently to optimize our business to business social media strategy. They posted the link to the main blog, and not the specific article, which only allowed them to post our logo, and not the image of their restaurant, (which they supplied me with) which is a really nice one. I would also recommend that they tag us in the status, so their fans can go to our Facebook Page to see what we're all about. I'm not concerned with getting them to like us, but our 
brand recognition
 is what I'm after. I can also measure the traffic to our gables.com website because our blog is linked to Google Analytics. Like I mentioned earlier, you can see the difference in the two posting style as they did not remove the link like I mentioned above. West Port Colony is going to continue with this strategy and fostering personal relationships. When the community is in a bind and running below occupancy, they can feel comfortable reaching out to the Burrito Boarder and asking them to post something on their social media sites.
Tags: Analytics, b2b, Behavior, blogging, Branding, community, Community Management, content, engagement, facebook, marketing, social media, social media marketing, Strategy, tumblr