Guys!, Brand names that disparage their competitors, or even more severe, state that they have none, are seen as egotistical and improbable. Listed below are four companies that discuss their levels of competition and have reaped the profits when it comes to SEO in addition to trustworthiness. Check it out!
1. Easy Lunchboxes vs. Ziploc
When Kelly Lester of Easylunchboxes.com launched her business of 3-compartment lunch boxes, there were no others like it on the market. But she soon discovered a big brand making the same configuration lunch boxes and selling them for less. Now that's tough to compete with for a small business like Kelly's. However she used her competition to her advantage by writing up an honest review (with pictures) of how her product stacked up against the competition.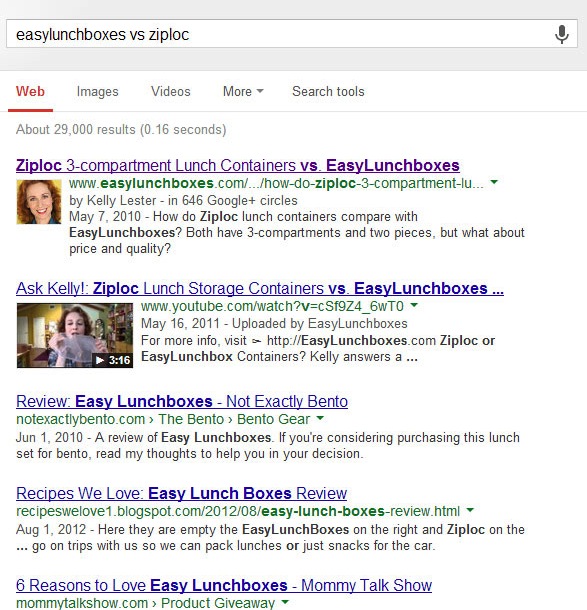 Her transparent review process earned the post high search rankings and provided core content for her would-be customers to refer to while comparison shopping.
2. FunnerVids
FunnerVids is an explainer video company – and as you may know, explainer videos are all the rage with startups. As a result there's been a mushrooming growth of explainer video production houses and a great list of the most popular ones can be found on Quora. Jim Kukral of Funnervids.com decided to take this Quora list and, with some additions and updates, put up his entire competitor directory on his own website – with a dedicated navigation link!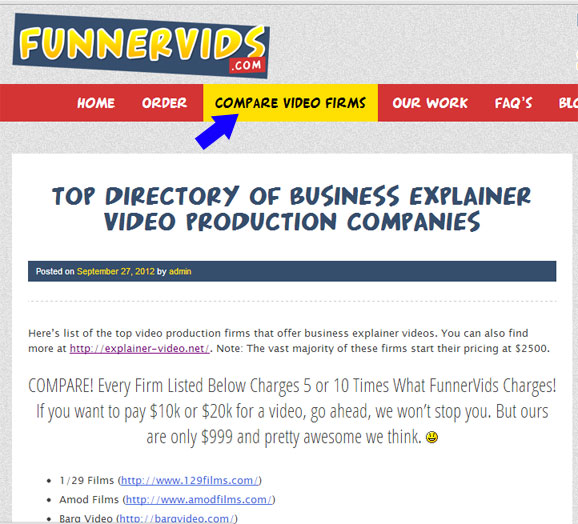 Searchers find his competitor list and are inevitably drawn to his own brand's promise of the least costly videos. He uses the list to underline the fact that all of his major competitors charge more for explainer videos than he does. And in doing so, gets compliments for his transparency.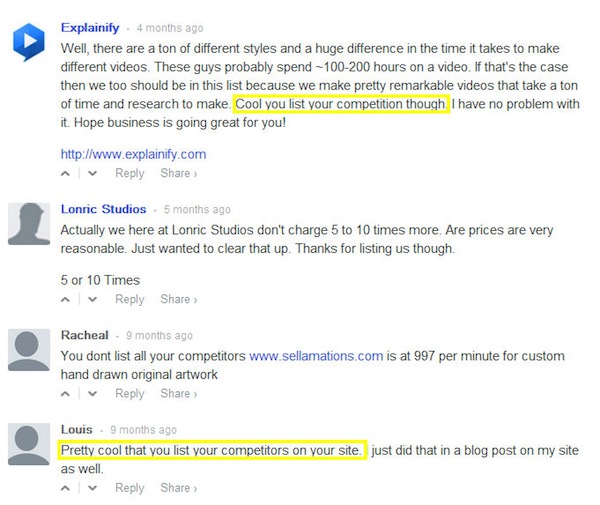 3. Marcus Sheridan – The Sales Lion
A pool builder turned marketer, Sheridan is one of the most vocal champions of not just talking about your competitors, but talking about them positively and recognizing their strengths. On his marketing site, The Sales Lion, Marcus says: "We compare brands. We compare companies. We talk about best and worst practices (of pool builders). And because we do, people all over the world trust us."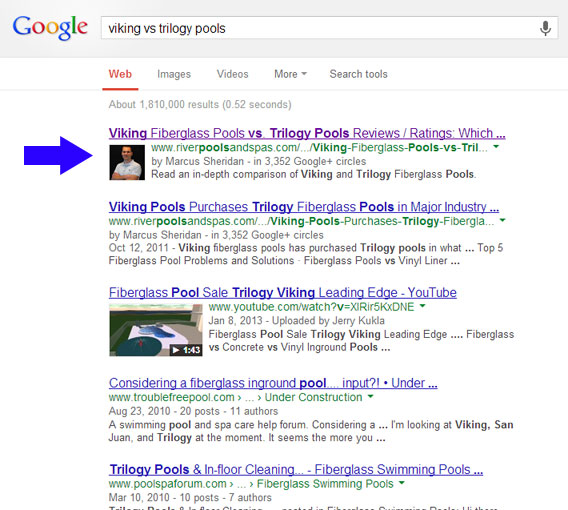 Marcus' approach has led to greater search visibility for his pool company, River Pools, and established him as a credible industry source.
4. Startup Videos
Startup Videos puts their competition on their home page! The home page contains nothing but videos made by other companies. Their philosophy states: "(We're) showcasing the very best of startup related promotional videos and recognizing the talented designers/agencies who create them." Startup Videos places its own service offering disguised as a banner ad at the top.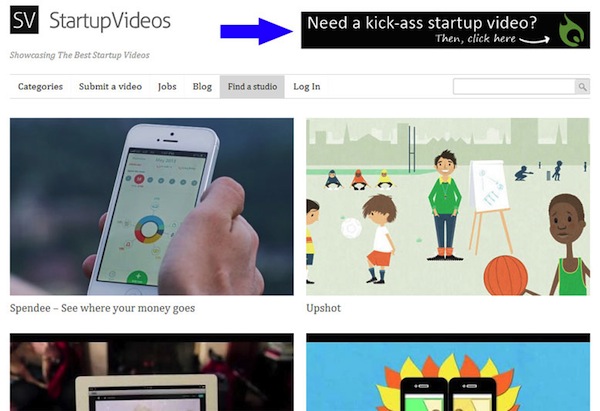 Identify How You'd Like to Highlight Your Competitor
Feeling inspired to try and leverage your competition? Start by identifying how you'd like to highlight your competitor. Should you create a product comparison blog post as some of the examples above? Or a list post? Or should a category unto itself? The answer depends on your product, your industry, your positioning, and your level of control over published content. If you're a big corporation with legal restrictions, you may not be able to mention your competitors at all. In such a case, check out a tactic recently being used by Dell. Dell's Facebook page linked to a study conducted on their social media response time vs. HP's response time. By referencing that study, they successfully managed to bring a competitor comparison to light while (hopefully) keeping their legal department happy. And the post generated a healthy discussion: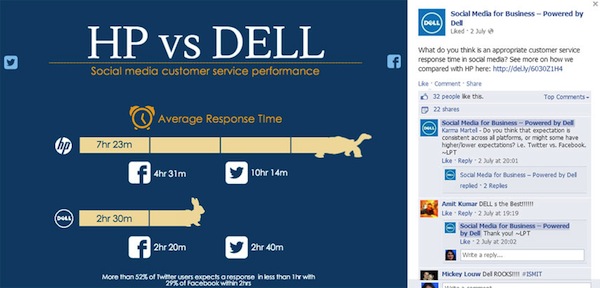 Keep Your Content Tasteful, Honest, Ethical
No matter which route you choose to go – highlighting competitor comparisons or highlighting others doing so – keep in mind that this tactic only helps build your brand when done in a tasteful, honest, and ethical way. Brands that disparage their competitors, or worse, claim that they have no competition, are seen as egotistical and unrealistic (Hint: that's for your customers to say, not for you to say for yourself). A much better way to build your authority and increase traffic to your content is to acknowledge your competition and give them space on your website.
Source: http://searchenginewatch.com/article/2290603/How-to-Build-Authority-by-Talking-About-Your-Competitors
Tags: Apple, brand names, Branding, business, Competition, Dell, facebook, Hewlett-Packard, Internet Marketing, marketing, Quora, Samsung, style of marketing