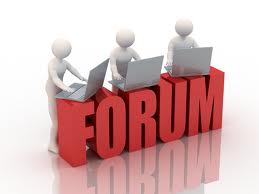 Do you know the reason why forums are one of the most powerful free traffic sources today? As internet marketers, we are looking for traffic sources that can give them potential clients to buy their products.
There are so many traffic sources we can count on (Web 2.0 properties, social networks, social media, PPV, PPC, article directories and press release directories), but why should we stick in the forums? First of all, forums are community websites that people are discussing their own interests.
This is where we talk about the things which were related to our interests. There are lots of niches or interests that we can count on, especially internet marketing and SEO. Some of the most popular niches that internet marketers are relying on are dating, insurance, mobile, technology, games and dogs. But there is one forum niche that gives greater potential to online marketers today. This is a niche that we may consider forum members as buyers or sellers.
We're talking about a common niche called internet marketing. This is where internet marketers are making money by promoting their products and services to a forum. Basically, we are going to promote them in various ways, and here are they:
1. Forum signatures: This is one of the most common methods as members to promote our products and services in the forum. It will appear on the bottom part every time you post or creating a thread. The more posts you will generate, the more traffic you'll get from potential buyers. There are some sellers saying that this strategy is too old for us to generate more traffic for their services. This method is indeed too old, but still very powerful to gain more buyers to your service.
2. Creating sales threads: If you are selling a service, you need to create a thread about it. You are creating an advertisement about your service that catches attention to potential buyers in the forum. Once you have created a "catchy" sales thread like on Digital Point Marketplace and Warrior Special Offers, potential clients may inquire to you through private messaging. As both parties agreed on a deal, the client must pay money to the service provider.
These are two of the most powerful methods that we can promote our services to potential buyers. We must also take note that forums is not only a big marketplace, but it's also a community that we can contribute something valuable to all members.
Learn more about 
Internet Marketing
.
Tags: article directories, forum, forums, internet, internet marketers, Internet Marketing, internet marketing forums, marketing, PPC, PPV, social media, social networks, Web 2.0 properties