I found a post that will help you in internet marketing.
I also found an informative article about using Pinterest on Internet Marketing.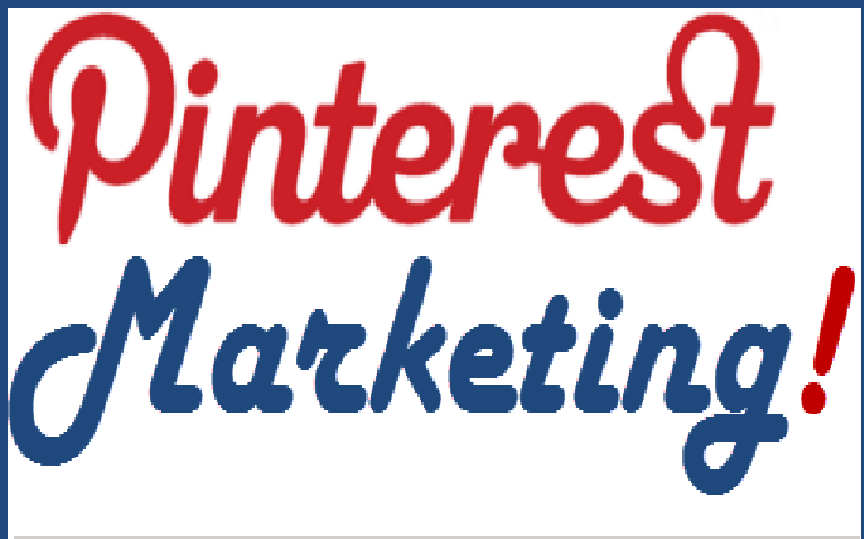 1. Promote Your Pinterest Account on Other Social Networks
Connect your Pinterest account with your Twitter and Facebook profiles. You can set up your permissions to have newly pinned items show up on your other networks. While this should be used with discretion, since heavy pinners may overwhelm your pals on Twitter and Facebook (Farmville-style), this is a great way to drum up followers from your other social networks.
2. Plaster the "Pin It" Button All Over Your Content
Make it easy for visitors to share your stuff and follow you by adding the Pin It button to your content and the Follow Button. Also try integrating Pinterest's nifty widgets if you're feeling adventurous.
3. Make Competitors into Contributors
You don't hear much about contributor boards, but they are an awesome feature on Pinterest that helps you gain exposure and pin collectively. Contributor boards let you and others you've invited to each add pins to a single board, creating a happy commune of collaborative pinning. Invite followers to become contributors on certain boards, and when they accept the invite, the board will automatically be displayed on their Pinterest pages, meaning more exposure for you! Better yet, if users choose to follow all the boards on one of your contributor's account, your contributor board is followed too! Contributors can be added in the "edit" options connected to any existing Pinterest board you've created.
Invite customers, colleagues, and even competitors to become contributors to a few of your boards. You want to add contributors that share a similar audience to you. Adding competitors lets you gain exposure across their network – ingeniously sneaky!
4. Make Unique Boards That Stand Out
There's likely to be thousands, if not millions of "Food" boards on Pinterest, but how many "Manna From Heaven" boards or "Drool-Worthy Dumplings" boards? Probably not so many. Get Pinterest followers by creating eye-catching board titles that demand a second glance. Don't get too freaky though; make sure that a user will still get the gist of what your board is all about. Also consider your audience – you should create more segmented boards within your industry. For example, it'd be smart for a bakery to have a separate board for scones, lattes, cupcakes, and muffins, but those would look a bit silly for a tech company. This doesn't mean you should completely steer away from topics outside of your expertise – especially with Pinterest-popular topics like food. Mashable does a fantastic job with their "Nerdy Desserts" board, creating a dessert board that still manages to relate to their knowledge base and appeal to their geeky audience.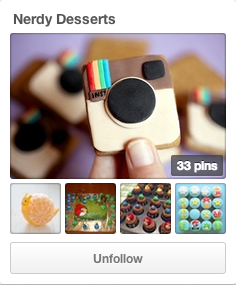 Don't be afraid to go over-board, as it were – the most successful Pinterest accounts have over 200 different boards!
5. Pin Often and With Purpose
Staying active is a golden rule of all social media sites. It's important to pin often on Pinterest, but not all at once – no one appreciates having their home feed plastered with a single user's overzealous actions. Instead, spread your pins out over the course of a day. It's good to shoot for somewhere between 3 – 15 pins a day. Make it easy for yourself by scheduling pins with a tool like Pingraphy. More activity means you are showing up on more Pinterest users' feeds, which naturally will increase your number of Pinterest followers.
6. Pin Original & High-Quality Content
If users see you pinning the same old stuff everyone else pins, they won't be itching to follow you. New and high-quality pins will capture the most attention. This isn't to say you shouldn't repin other content – of course you should, but be sure to complement your repins with your own original content. If you're pinning photos, make sure they are high-quality and look good – low-quality, blurry images aren't nearly as appealing. Also aim for rich, colorful content. Curlate has done a study showing that colorful pictures and images with minimal white space perform the best, with colors like red, orange, and brown getting twice as many repins as blue-dominated images. Take Pinterest's layout into consideration as well when pining content. Tall, long images look the best, which makes Pinterest an excellent space to share and promote infographics. Quality content gets noticed – your pins should fulfill needs, answer questions, and inspire.
7. Comment, Like, and Engage
Though the commenting feature has been around on Pinterest for quite some time now, it's undervalued and rarely used, which means commenting is the perfect method to get some extra attention! Users who see you commenting and interacting with their boards will be much more likely to follow you.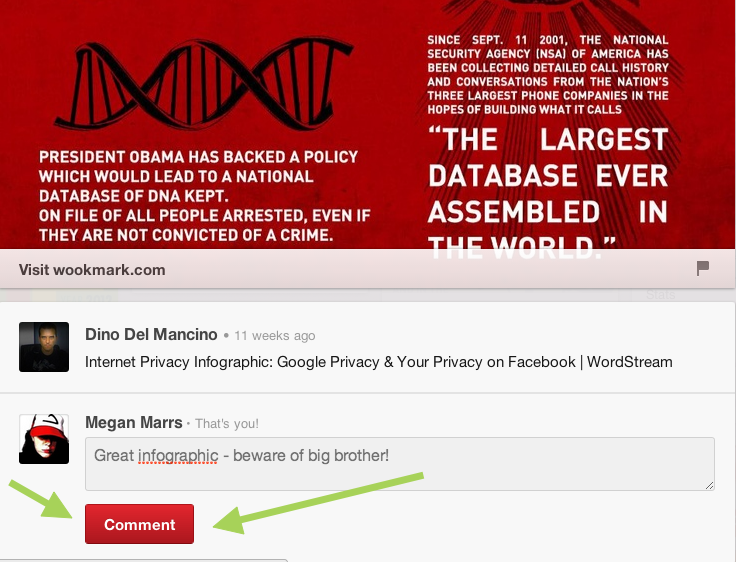 While "liking" content doesn't spark the same kind of notice and conversation that commenting does, it's still a solid practice.
How could you not like those slobbery beasts?
8. Write Solid Captions and Implement #Hashtags
I can't begin to tell you how many Pinterest "love it" or "have to try this" captions I've seen. This is a poor practice if you're trying to increase your Pinterest followers. Opt instead for curt but descriptive captions that will make your pins easily searchable. Also consider adding some #hashtags where appropriate. Don't get too carried away – tons of hashtags and links in the description can come off as #spammy.
9. Get Creative & Try Something Different
Get Pinterest followers by experimenting with design and layout on Pinterest. Peugeot Panama made social media headlines when they hosted a contest in which users had to find and pin the missing car tiles.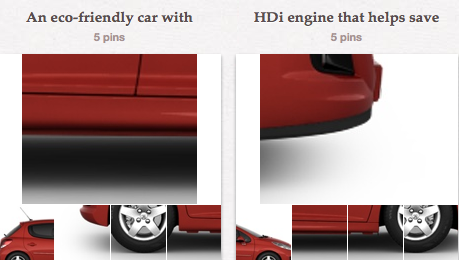 Peugeot Panama took advantage of Pinterest's unique layout to create something new – try implementing your own cutting-edge designs. Middle Sister Wines also have fantastically creative Pinterest layouts, with each brand of wine represented by a character.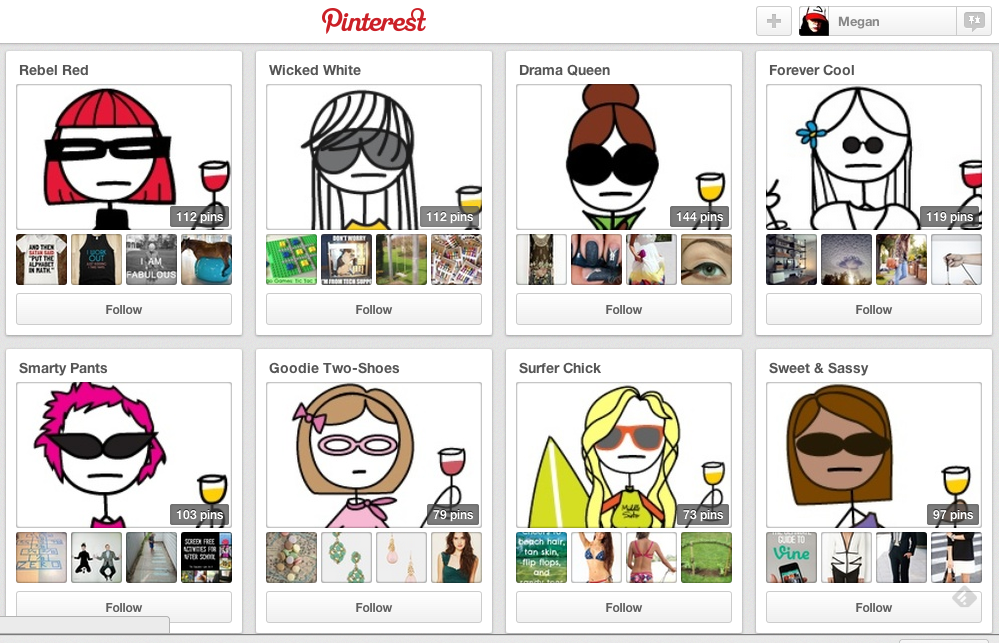 You can't image what they're like at Happy Hour.
While this is a creative design, it's not terribly hard to implement – could your business do something similar?
10. Follow Others
Give a little, get a little – following others is a great way to get your own followers, as many users practice reciprocal following. Don't know who to follow? Click your name in Pinterest and you'll see a drop-down option to "Find Friends." Pinterest will then show your Facebook and Twitter friends that are on Pinterest!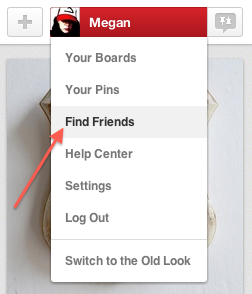 When you pin something, you'll also see the person and board you are repinning from. If it seems like a cool board, go ahead and follow that user's board, or all of their boards if you really dig their style. It's also a smart idea to follow the most popular Pinterest accounts so you can see what the pros are pinning and think about how to emulate their Pinterest power.
11. Create "Cover Images" For Your Content
This is a serous gem, and is key in getting Pinterest users to click through to the referral links attached to your pins. Despite being an image-oriented site, it's becoming increasingly more common to see quotes, text, and cover images appearing on Pinterest. What do I mean by a cover image? A Pinterest cover image is a striking graphic that hooks in viewers to a piece of content offered on your site. Here are a few examples:
Cover images work great for sharing content like:
Tutorials
White Papers
E-Books
Lists
(Best) Blog Posts
Using cover images promotes your persona as a trusted relayer of top-notch content, boosting your Pinterest following as a result.
12. Become a Featured Board
Having one of your boards featured on Pinterest's "suggested boards to follow" section or on popular pin-aggregators like Repinly is a following gold mine. This kind of exposure can't be bought, so your best bet is to set up your boards so that they have the best chance of becoming featured Pinterest boards. To increase your chances, make sure that your boards have a very focused subject, are well populated with plenty of pins, and get plenty of visits. For more Pinterest tips, tricks, and strategies, check out our complete Pinterest Marketing Guide
Source: http://www.wordstream.com/blog/ws/2013/06/10/buy-pinterest-followers
Tags: Google Adwords, Pay-Per-Click, Quality Score, Search Engine Marketing, search engine optimization, SEM, SEO, Web Marketing