What's your social media marketing tactics? Do you have your own or still thinking what social media marketing strategy that will work for your business? Here's an informative video that talks about the cutting edge tactics for your social media, in this video you'll learn how to effectively use Twitter, Facebook & other social media to promote your business and brand in the best possible light. Watch this video to learn the do's and don'ts.
Here are additional 5 social media marketing tactics for your business.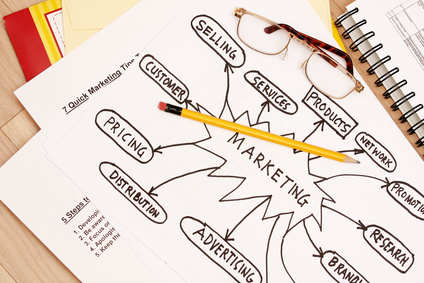 Your annual marketing plan needs to adapt to technological advances/demands, social environment changes, and a forever evolving demographic. A marketing campaign that is successful this year could be unsuccessful a year from now due to these market influences. You should be constantly paying attention and educating yourself about what is going on in the industry around you. From the time you start to the time you finish a campaign, monitor everything. See what sticks and what doesn't. Make mistakes and learn from them. For OrderUp's online franchises in the food ordering industry, marketing isn't an overnight success, and it certainly doesn't pay to be lazy. The only way to truly garner interest is to constantly be hitting the ground and running at a full sprint. You want to be ahead of the pack. From a social perspective, we have found areas of success by sticking to these few simple procedures in order to continue reaching out to our customers.
1. Factoids
With the Ravens going to the Super Bowl, we came up with a mini Super Bowl communications plan to get some engagement via our Baltimore territory, EatBmore, especially on Twitter. In the week and a half leading up to the Super Bowl, we posted facts and figures relating to the Super Bowl and our personal favorite topic, food. Every post included the hashtag #SuperBowl or a trackable link so we could see who was viewing our posts.

Over the course of the week, our engagement levels went up 15%. We had over 100 positive interactions with the account (which includes retweets, direct mentions or messages) and increased our click-through rates via Twitter by 40%. The simple plan to post content to engage customers helped our customers relate positively to the brand. Since we were fortunate enough to have our local Super Bowl team win the Super Bowl (GO RAVENS!), it was easy for us to get excited and find others who were also feeling the same way. The sales results? Our social media strategy made the Super Bowl an even bigger day for our online food ordering. Across all of our online franchises, many of which followed the same factoid strategy, we sold over 32,000 items.
2. The Engagement Story
There is a reason why sites like The Chive or Tapiture have such a massive following. Both sites post content that generates excitement, engagement, interaction—fun. Who doesn't want to be a part of a site that encompasses those beliefs? We try to keep those goals in mind when reaching out to our customers on a social level. Engagement and interaction is directly affected by timing. Did you know that within 30 minutes after a Facebook post is published it will already have gotten half of its reach? (Source). Even within those 30 minutes, around an average one-third of the overall post reach will be obtained within the first 10 minutes after being posted. Be careful to post at a time when your fans are likely to relate to your post immediately. If a customer relates to your post, they are more likely to share and "Like" your post, which will then be communicated to their realm of friends. For example, within our company-owned territories, we knew that college students were returning after a month-long winter break, so we posted the following photo because we wanted to relate to how they were feeling (and Grumpy Cat was a pretty big deal around Christmas time):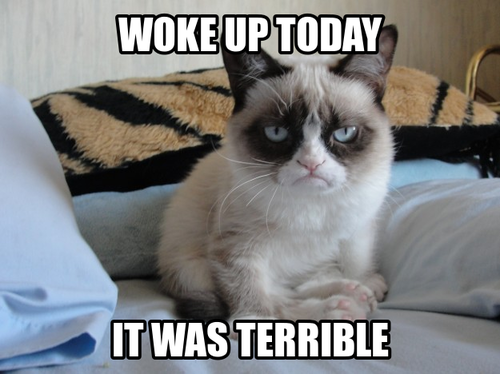 Retweets on Twitter went up 20% and we also gained 10-15 new followers just for that day. Now, I'm not sitting here telling you that the keys to success are to post cat photos (I personally am a dog person). However, think about posting content—photos in particular—that will resonate on a greater scale to your customers, even if it's not closely related to your business.
3. Timing Is Everything 
This leads us to our next plan of attack when posting on our social media channels. Approximately 60% of Facebook branding posts are published from 10 AM through 4 PM during the main business hours of the day. For most companies using Facebook as a communication tool, posts begin to drop off after 4 PM (Source). At OrderUp, we post day and night. We found that by posting outside of regular business hours, our engagement rates were nearly 40% higher than our normal engagement rates. More importantly, we tier our posts to include more posts towards Thursday and Friday (the end of the week) because people are 9.7% happier and relate even more on a social level because the weekend is almost here (Source).
4. How Do You "Like" Dem Apples? 
We constantly post items on Facebook and Twitter that explicitly encourage customers to "Like" or "Retweet" to expand our brand across their own social pages through using those words in our posts. Customers relate to the word "Like" on Facebook because the action is so simple and easy to do. Any time we prompt a customer to "Like" a post, the reaction is immediate and grand. We keep these kinds of posts limited to 1-2 a week to make sure we aren't overwhelming our customers. The overall goal of these posts is to keep it as simple as possible. For example, on Election Day, we prompted customers to "Share," "Like," and "Comment" on the following post to receive a Free Pizza.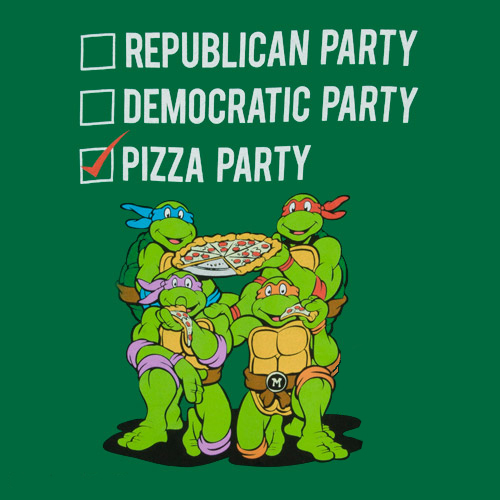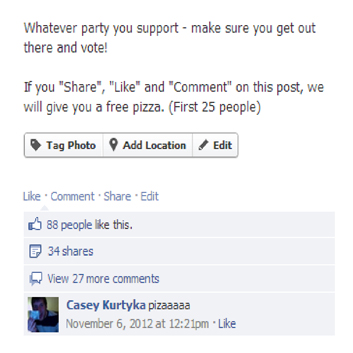 This bumped our social interaction up nearly 62% from the previous day, but more importantly, for the whole week afterwards, when customers began using their coupon code for a free pizza, they either tweeted about it or talked about it separately from our own company pages. This is exactly the kind of scenario we hoped for when we launched this easy post—one day of engagement that customers turned into a seven-day conversation.
5. Deal of the Day
Think about all of the Facebook and Twitter pages you currently "Like" or "Follow" from your personal social page. Now think about why you have gone out of your way to "Like" or "Follow" these pages. To no surprise, nearly 80% of customers use social media channels of their favorite brands to find discounts or other incentives (Source). Every day, we post our daily specials and deals to make sure we are communicating our product efficiently to our customers. For our Charlottesville territory (HungryHoo.com), we've focused on increasing our social media efforts compared to the previous year. By posting deals 3-5 times a day via Facebook and Twitter and also reaching out to our customers on a more personal level, we have been able to increase our followers on Twitter alone by 68% within the past 3 months. Sharing great content helps to keep customers coming back. We focus on making sure the deals and content we post on our social media channels are current and daily. Posting once or twice a week will only give you limited results. When users see money-saving specials or content that is appealing to them, they will return for more. By marketing solid "only available online" deals through our social media channels, we are able to draw in customers who might not otherwise come to the site. The combination of different outreach tactics helps us build customer loyalty and interest on both a daily and weekly basis.
Tags: best practices, customer engagement social media, engagement, marketing, social media marketing